Olympic success triggers surge in women's sport participation
Posted on in Cycles News, Outdoor News
Olympic success by Team GB's women has helped trigger a surge in girls taking up sport, according to a new report.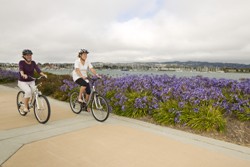 Three in four girls aged 15 and 16 are now playing sport at school, compared with only one in two in 2015, say researchers behind the Childwise report into children's behaviour.
The dramatic rise is also seen in girls playing sport in their own time, with half of all teenage girls now participating at home and school compared with only two in five two years ago.
"Girls aged 15 and 16 have always been the group least likely to take part in any sport, at school or outside school, but the news that more of them are now doing sport at school is very encouraging," said Simon Leggett, Research Director from Childwise.
He singled out media campaigns aimed at encouraging girls and women into sport, such as Sport England's "This Girl Can", and the success of British Olympic stars such as Jessica Ennis-Hill for inspiring the surge.
Netball is the most popular sport at school for girls aged 11 to16, with 57 per cent of all girls playing, followed by athletics at 45 per cent, badminton at 39 per cent and hockey at 35 per cent. Outside school, swimming is most popular followed by cycling and athletics.
The second phase of the sport-participation campaign This Girl Can has recently been launched, as part of ongoing efforts by Sport England to get more women and girls exercising regularly.
The initial campaign in 2015 helped 1.6 million females aged 14-40 start, or restart, a sporting activity.
"This Girl Can has made a real difference since it launched," said Sport England chief Jennie Price.
"But there's a lot more to do. The gender gap still exists."
"Most women still feel judged when they play sport or exercise," added Price.
"We feel guilty for stopping and starting, for hesitating, for not looking perfect. The women and girls in this campaign remind us that's normal and create some strong images that we hope millions of women will relate to."
Sport England cites a total of 7.2 million women and girls being engaged in regular physical activity in the UK - an all-time high - and it is hoped that number will rise further with a campaign focusing on issues that still prevent many from making the step to a healthier lifestyle.
Useful links

If you have any other queries please contact us.

The Experts is brought to you by ActSmart.